Lin Dan, The Badminton Legend From China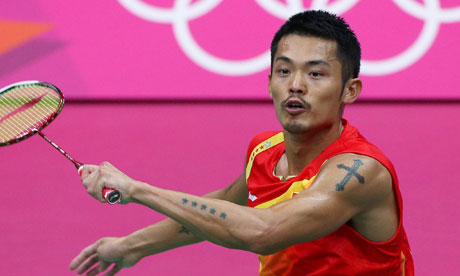 Who didn't know Lin Dan, one of the best badminton player in the world. He won many medal in international championship and tournament. Lin Dan married Xie Xingfang in 2012, a former world champion badminton player older than him.
He is known for his controversial character. He punched his own coach in the middle of a game. Lin Dan have visible tattoo.
In spite his activity in badminton, he managed to get his master degree from Huaqiao University in 2012.
Profile
Name: Lin Dan
Nickname : Super Dan
Birthday : October 14, 1983 Longyan, Fujian, China
Handedness : Left
Nationality : China
Achievement
Olympic Games
Gold medal Men's singles – 2008 Beijing and 2012 London
World Championships
Gold medal Men's singles – 2006 Madrid, 2007 Kuala Lumpur, 2009 Hyderabad, 2011 London, 2013 Guangzhou
Silver medal Men's singles – 2005 Anaheim
World Cup
Gold medal – 2005 Yiyang and 2006 Yiyang Men's singles
Thomas Cup
Gold medal team – 2004 Jakarta, 2006 Tokyo, 2010 Kuala Lumpur, 2012 Wuhan, 2002 Guangzhou, and 2014 New Delhi
Sudirman Cup
Gold medal Team – 2005 Beijing 2007 Glasgow 2009 Guangzhou 2011 Qingdao 2015 Dongguan
Asian Games
Gold medal Men– 2006 Doha 2010 Guangzhou 2014 Incheon
Gold medal Men's team – 2010 Guangzhou
Silver medal Men's singles – 2006 Doha
Silver medal – 2014 Incheon Men's team
Bronze medal – 2002 Busan Men's team
Asian Championships
Gold medal – 2010 New Delhi 2011 Chengdu Men's 2014 Gimcheon 2015 Wuhan singles
Silver medal – 2001 Manila Men's singles
Bronze medal – 2008 Johor Bahru 2012 Qingdao Men's singles
East Asian Games
Gold medal Men's team – 2009 Hong Kong
Silver medal Men's singles – 2009 Hong Kong
World Junior Championships
Gold medal Mixed team – 2000 Guangzhou
Bronze medal Boys' singles – 2000 Guangzhou
Asian Junior Championships
Gold medal – 2000 Boys' singles
Gold medal – 2000 Boys' team
Awards
Eddie Choong Player of the Yeard for  2006 and 2007
BWF Best Male Player of the Year in 2008
MVP during the 2010 Asian Games in Guangzhou, China